On Thursday 6th April 2017 around 160 Rainbows, Brownies and Guides received their Art Award certificate in a Presentation Evening at Dukinfield Town Hall.  The Civic Mayor of Tameside, Councillor Philip Fitzpatrick and Girlguiding Northwest England Assistant Region Commissioner Mel Price presented each of the girls with their certificate and a badge.
The evening was also attended by the families of each of the arts award recipients and a huge cheer went up when each girls name was called out to receive the award. It was a very positive and rewarding evening at the culmination of weeks of creativity from the girls.
To achieve Discover the rainbows and brownies discover the arts around them find out about artists and their work and share their experiences with others. This award provides a great introduction to the arts and to other arts award levels.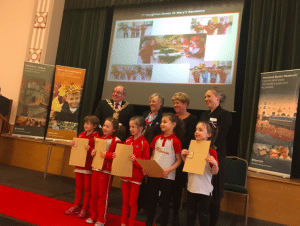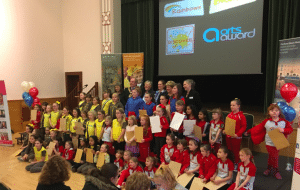 Thanks went to Colleen Roberts and Tracy Webster for organising both the evening and the event.  Awards went to girls in the following units:
1st Haughton Green St Marys Rainbows
7th Ashton Christ church Rainbows
9th Ashton Albion Rainbows
10th Ashton St Johns Rainbows
9thDroylsden St Stephens Rainbows
15th Ashton Hurst Nook Rainbows
17th Ashton St Anns Rainbows
1st Gee Cross Brownies
8th Ashton Christ Church Brownies
9th Ashton Albion Brownies
15th Ashton Hurst Nook Brownies
17th Ashton St Anns Brownies
28th Ashton St Peters Brownies