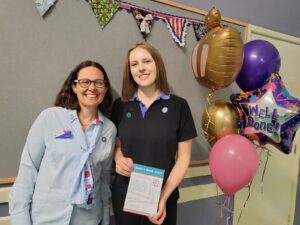 A Girlguiding Manchester star celebrated achieving Girlguiding's highest award on 9 May.
Rebecca Taylor, 20, from Victoria Park, was presented with her Queen's Guide award at a party held with her Brownie unit in Burnage, who helped her to celebrate. The presentation comes ahead of an official presentation which will take place at the House of Commons later in the year.
The tough Queen's Guide award has to be completed within a three year period and consists of a collection of personal challenges. Rebecca started the award in her hometown of Darlington and completed her award whilst studying Geography at the University of Manchester. To gain the award she selected personal challenges in fields including volunteering, social action, developing new skills and travelling to a new place.

Some of Rebecca's personal challenges had to be completed under Covid-19 restrictions which made some of the elements were even more challenging. During the award she arranged a virtual sleepover for Brownies, carried out a research project around mental health services and volunteered with MIND charity, joined a choir, attended a residential event for a weekend with people she didn't know and completed a virtual expedition all alongside regular volunteering with her Brownie groups.
The Queen's Guide award is the highest award a young member, aged 16-25, can achieve in Girlguiding. Members choose their own challenges, at their own pace and work towards their award over the three year period. It aims to help young women to gains skills and confidence for life and work.
Rebecca said: "My favourite challenge was the virtual expedition. Because of the pandemic I had to be creative about how to achieve this. I worked with three other people from different parts of the country. We didn't know each other at the start but worked together online to explore our local areas and to create an A-Z of. We each visited unusual places under covid restriction and came together on zoom to talk about our experiences and to compile a presentation."
"Working towards my Queen's Guide Award was a big challenge, especially during the pandemic, but it's been so rewarding. I've gained new skills and the confidence to take the lead, not just in Girlguiding but in other areas of my life too."
County Commissioner, Rona Rommel said "We are so proud of Rebecca's determination to complete this prestigious award through some challenging times. Her enthusiasm is infectious and it is great to see her confidence grow. I'm especially proud of the research she did for me into awards and recognition and the way that piece of work has developed."
If you're interested in the Queen's Guide award then get in touch on [email protected]